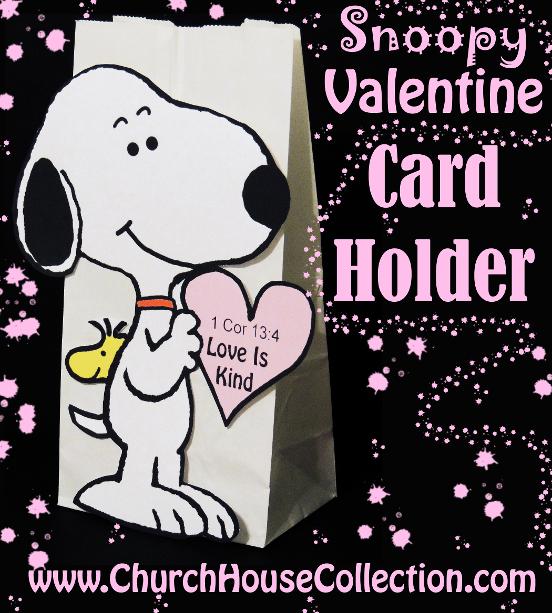 Snoopy Valentine Card Holder Craft
Love Is Kind- 1 Cor 13:4
Black and White Template-printable version
Colored Template- printable version
Here is a very simple Valentine's Day craft for the kids to do. This template is a picture of Snoopy holding a Valentine heart that say's "LOVE IS KIND 1 Cor 13:4 with Woodstock picking out from behind Snoopy.
To make this craft, just pick a template out and print it on cardstock. We have a colored version and a black and white version.
If you pick the black and white version then just have the kids color the picture first before they cut it out. Then just take a white lunch bag and tape Snoopy to the front of the bag. Now you have a Valentine's Day Card Holder that other kids can drop their Valentine cards into.
You can get creative and add some glitter to snoopy. Just use some stick glue and smear it all over Snoopy's body and head and then sprinkle some white translucent glitter all over him. You could also do Woodstock by adding some to him too.
If you have some small Snoopy "Peanuts" stickers on hand then stick those all over the bag. You can easily find those in Amazon.
Try making your own Valentine's Day Snoopy Peanuts cards yourself or you can use these that we made. Just have the kids fill the cards out and then cut them out.