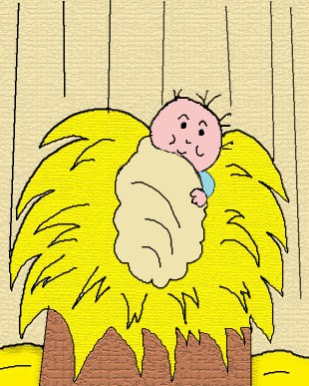 A child made this little craft.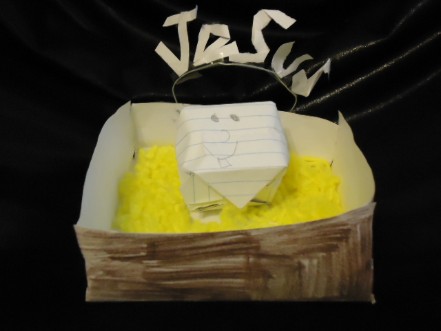 Baby Jesus Laying

In The Manger Craft
Yellow Yarn (for hay)

1 Sheet of White Computer Paper (for manger)

1 Sheet of Notebook Paper (for baby Jesus)

Pencil

Brown Crayon or Brown Marker
Tape
Metal Wire or Bread Tie (a tie off the bread bag)
Scissors
Take your white computer paper, and cut a small square out for the floor of manger.

Cut 4 rectangle stripes for your sides of manger.
Tape them together on the seams.
Cut yarn into small little pieces for hay.
Tape your wire to the back of manger.

Cut the letters J, E, S, U, S out of the white computer paper.
Tape to wire.
Take your white notebook paper and make the baby Jesus Paper Balloon.

Draw a face on it for baby Jesus.
Watch the You Tube Video I Found

To See How To Make The Baby Jesus Paper Balloon