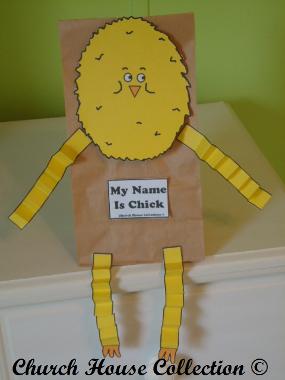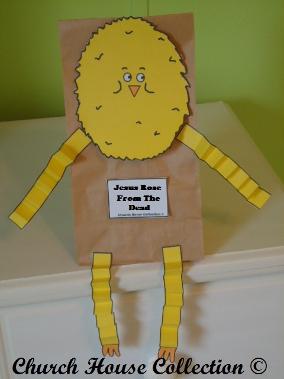 Easter Chick Lunch Bag Craft
"My Name Is Chick" and "Jesus Rose From The Dead"


Just pick out which template you need below and print it. We have colored and black and white. If you print the black and white out then have the child color the chick yellow and his feet and beak orange. Tape the head and arms onto a brown lunch bag. Or you could do a white lunch bag and have the kids color it yellow if you want.
Have the child fold the arms and legs back and forth to make a crinkle in it before they tape it on. This bag is empty but you could fill it with something to make it full. I just folded the top over and stapled it. Tape the little small square with the words, "My Name Is Chick" or "Jesus Rose From The Dead" in the middle of the bag. (Depending on which template you printed)
Back to
Easter Crafts
You might also like:
Easter
- see all (Coloring pages, lessons, snacks, etc)