Gingerbread Ornaments
"Gingerbread Man Ornament Templates"

Gingerbread Paper Cutouts- With Scripture Without Scripture
Card Stock
Laminate- Optional
Yarn or String
Hole Punch
Scissors
Pick which gingerbread sheet you want to print. One sheet comes with scripture and the other does not. Just print this on card-stock paper and have the kids cut out the gingerbread men. To make it easier on them you could just have them cut the men out in circles instead of cutting all around the lines. Laminate if you want. Using a hole punch, punch a hole in the hole that is already been made in the hat. Run a piece of string or yarn through and hang up on the Christmas tree.

With Scripture-Matt 6:11-Give us this day our daily bread.
Color before you cut out.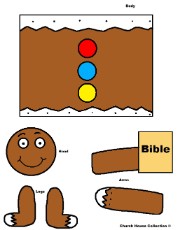 Gingerbread Toilet Paper Roll Hanging Ornament
Colored -With Bible Without Bible
Black & White- With Bible

Print and cut out. Assemble onto a toilet paper roll. Wrap body around toilet paper roll and tape in back. Tape arms head and legs on. Punch a hole in the back of the toilet paper roll and run a yarn through it. Tie in knot. Hang on tree.