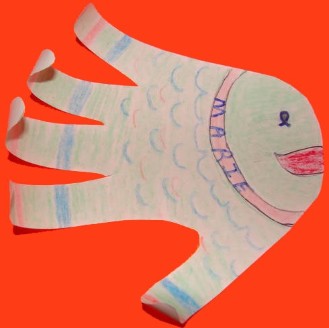 Hand Fish Craft
Hand-Fish Bulletin Board Idea
Isaiah 49:16 Behold, I have graven thee upon the palms of my hands; thy walls are continually before me.
Talk to the children about how God is always taking care of them. He never forgets them, not even for a minute.
Trace each child's hand. Round off the drawing at the wrist. Cut it out. Turn the hand so the thumb is on the bottom. Draw a fish face. Let the children color and decorate their hand-fish. Write the name of each child on his or her hand-fish. Curl the fingers around a pencil so they look like the fish is swimming through the paper. Put the hand-fish on a bulletin board with the words from Isaiah 49:16.
Optional: Add some of the
cupcake holder seashells
.