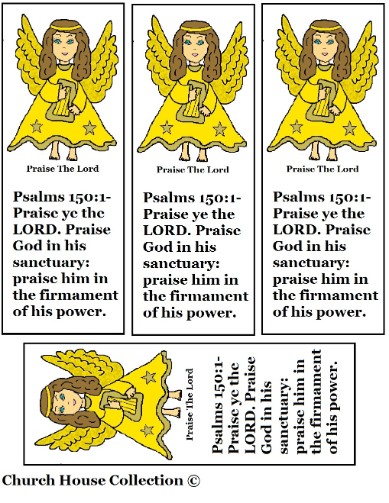 Angel Bookmarks
Angel Bookmark Template:
Colored- 4 bookmarks on one page
Colored-1 bookmark on one page
Black and White-4 bookmarks on one page
Black and White-1 bookmark on one page
Pick out which bookmark template you want. We have colored and black and white. If you print the black and white one then just have the kids use some crayons and markers to color it before they cut it out.

You can laminate the bookmarks or you can just print on cardstock. Regular printing paper will work fine too.

Consider printing off a bunch of these and give them out to the kids as prizes when playing a game. You could give them out as favors in a lunch bag that is filled with treats for Christmas gifts.

I have taken my laminator to Church to laminate their bookmarks when they were done coloring them, that way the kids can take them home laminated the same day.

Don't have a lamaintor? Then just gather them up after they are done coloring them and take them to a place that will laminate them and bring them back to the kids. The kids will appreciate that you cared enough about them to do this. One day they will look back and remember that you were the teacher that went the extra mile for them. I promise you they will remember what kind of job you did when they grow up. It's the small things that count to a child. It don't always have to big the best of things you do, but it's just the tiny little things that kids will take notice of.
Use these bookmarks to go along with our Angel "Praise the Lord Lesson.
You might also like:
Christmas Crafts For Sunday School