Ice Cream Cone Crafts

"Jesus Is Sweet"
Psalms 104:34- My meditation of him shall
be sweet: I will be glad in the LORD.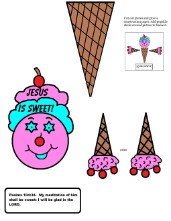 Ice Cream Cone

Jesus Is Sweet Picture Frame
(color) or (black & white)

Print and cut the pieces out and assemble onto a piece of construction paper. Frame the picture out in popsicle sticks. Paint the sticks pink and blue.