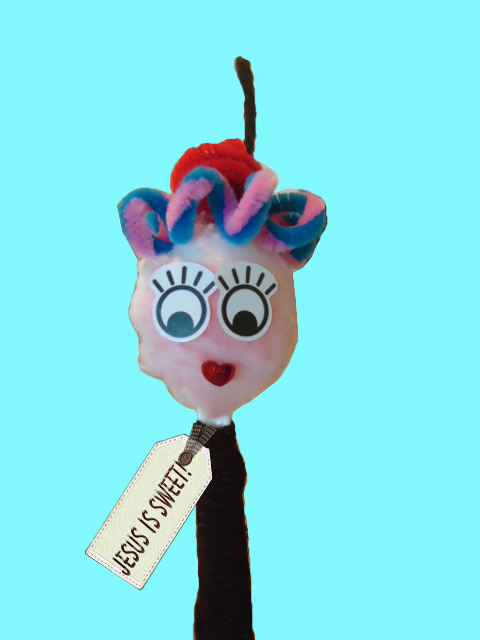 Ice Cream Spoon Craft
"Jesus Is Sweet"
Psalms 104:34- My meditation of him shall be sweet:
I will be glad in the LORD.


White Plastic Spoon
Pipe Cleaners ( Pink, Blue, Red)
Brown Yarn
Eye Stickers
Cotton Ball

Pink Make-up Blush or Pink Paint
Brush-for dusting pink blush

Tag
Ribbon
Foil Confetti Heart -for mouth
Black Marker
Glue or tape
White cup -(turn cup upside down and make a slit in the bottom of cup. Stick the spoon down in the slit so you can decorate the head. This helps when you are letting it dry from the glue too.

Take your white cotton ball and tape or glue it to the plastic spoon.
Take some pink make up blush and dust the top of the cotton ball.
Stick your eye stickers on. Wrap your brown yarn over the handle of spoon & tie a knot in the back. Stick the spoon down in an upside down cup with a slit in it. This will help you out when you are decorating it.

Take your pink and blue pipe cleaners and twist them together and then wrap them around a pencil. Then slide it off the pencil so it will have a curly effect to it. This is the ice cream. Tie the ends together and stretch it out enough to form a circle for the top of the cotton ball. Add some glue and sit it down on top of cotton ball.
Take a red pipe cleaner and make it in a shape of a cherry. Just make a round ball with it winding it around and around. Glue this down on top.
Take a piece of brown yarn and cut it for the stem of the cherry. Add a knot in the bottom and stick down in the red cherry pipe cleaner.
Take your black marker and write "JESUS IS SWEET!" on the tag. String your ribbon through the tag and tie around the neck of the spoon.

Glue your heart foil mouth on.

Let it continue to dry while it sits in the cup.