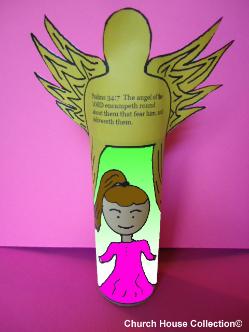 Angel Of The Lord

Toilet Paper Roll Craft
Psalms 34:7 The angel of the LORD encampeth round about them that fear him, and delivereth them.


Colored Template
Black and White Template
Just pick out which template you need. If you use the black and white one then have the kids use crayons or makers to color first. Then have them cut it out. Wrap the picture around a cardboard tube and tape or glue in the back. I use tape because it works better. This has a scripture on the front of it.
Back to Bible Toilet Paper Rolls
Go to Angel Crafts