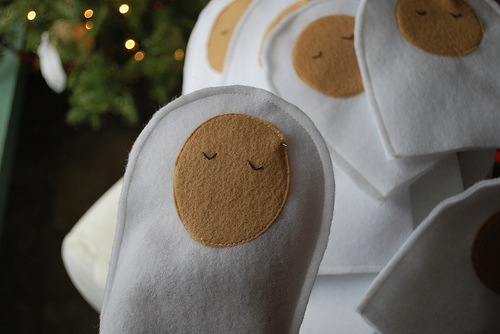 I want to say a special thank you to Wild Olive Blog Website:Mollie Johanson for
allowing me to use her picture. Original idea is at this link (Click Here)
Baby Jesus Lollipop Covers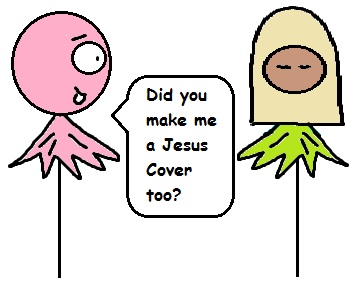 Lollipops
White Material or Felt
Brown Material or Felt

Sewing Machine or Hand Sewn




Black Sharpie Marker (for eyes)
Take a sheet of paper, and draw yourself a Pattern. Start by drawing a U shape for the Lollipop Cover. Make sure that you it big enough to go over your lollipop. Also give an allowance for when you sew it, because this will make it smaller. Now make a Pattern for the Jesus face. Draw a Circle. Simple enough!

Now that you have your pattern drawn, take your White Material or Felt and lay your U Shaped Pattern down on it. Cut 2 of them out. Next take your Circle Pattern and lay that on Brown Material or Felt and cut 1 of those out.

Now your ready to sew. You can use a sewing machine or you can hand sew them.

Take 1 piece of your White Material or Felt and sew the Brown Circle Jesus Face on it.

Then take your 2 white pieces of material and sew them together. Next draw slits for eyes with a black sharpie marker.

Now slide your Jesus Lollipop Cover over your sucker, and hand out to your kids at church.