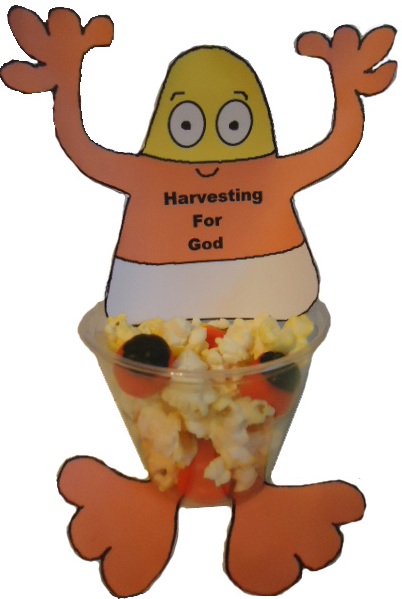 Candy Corn "Harvesting For God"

Cup Craft
Candy Corn Template (printable version)

1 small plastic cup
Scissors
Tape
Popcorn
Candy Corn and Candy Corn Pumpkins
Card stock (you might want to use this otherwise the paper will flop over or laminate)
Laminate (optional)

Print the Candy Corn Template out. Cut it out and tape the body to the the inside of the cup. Tape the feet to the bottom of the cup. Fill the cup with popcorn and candy corn and pumpkins. Give these for a sweet treat to your kids in class. Or you could let your kids make these in class and take them home. You could also use this candy corn template for many other things like attaching it to a toilet paper roll instead. Or tape to a pencil just for fun. You could print on peel and stick paper and add to brown lunch bags, notebooks, scrapbooks, or anything you can think of. You could even use this as a candy corn game. Just make two cup crafts but do not fill up with candy. Leave the cups empty. Have the kids get in two teams and line up. Give a spoon to each team leader and lay a candy corn on the spoon. Let them race to the end and drop in cup and race back and hand the spoon off to the next person and the next person has to run down and put the candy corn on their spoon and run back and hand it off. First team that finishes first wins. You could print them out a candy corn award certificate.

Use this with our Fall Sunday School Lesson. Comes with coloring page, maze, recipes, cupcake toppers, free scarecrow templates, and more. We also have Fall Festival Ideas.
Check out these other ideas: