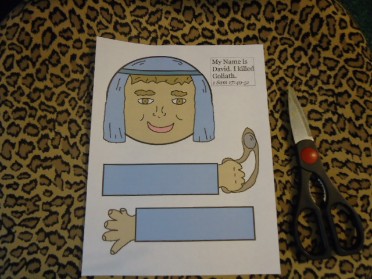 David Kills Goliath Paper Lunch Bag Craft
(1 Samuel 17:49) And David put his hand in his bag, and took thence a stone, and slang it, and smote the Philistine in his forehead, that the stone sunk into his forehead; and he fell upon his face to the earth.


Choose a template to print out. If you choose the black and white one then have the kids color it. If you choose the colored one then just have the kids cut the head and arms out and tape or glue to brown paper lunch bag. Cut the label out that says, "My Name Is David. I killed Goliath 1 Sam 17:49-51". Let the kids do this for Sunday school Or Children's Church. Teach them about David and Goliath in a lesson.