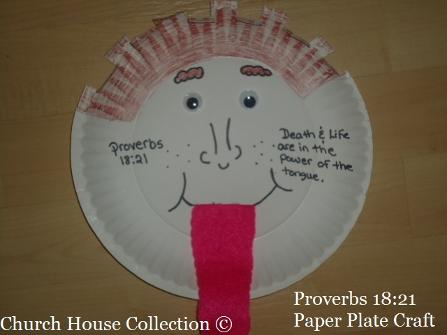 Death And Life Are In The Power
Of The Tongue Paper Plate Craft
Pr

overbs

18:21- Death and life are in the power of the tongue: and they that love it shall eat the fruit thereof.
You could do a paper plate craft for Proverbs 18:21 by letting the kids draw a face on the front of it and coloring some hair at the top of the paper plate. Have the kids cut a slit in the paper plate to slide a tongue through made from red felt.
Have them cut slits in the top of the paper plate and curl them a little bit to make it look more like hair. Write the scripture on the face like you see in the pic

ture. Add some goggle eyes and your done!