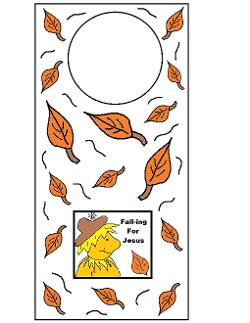 Fall Scarecrow "Falling For Jesus"
Doorknob Hanger
Fall Doorknob Hanger-printable template
This is a free printable falling for Jesus scarecrow doorknob hanger template. Just print this template out and let the kids cut the doorknob hanger out. Make sure you print on card stock if you don't laminate it. You can use regular printing paper but it won't hold up very well at all. This fall craft is perfect for kids during the fall time that needs something special to hang on their door. Make these in Sunday school, children's church or even at home just for fun!
Back to Fall Doorknob Hangers
See All Bible doorknob hangers