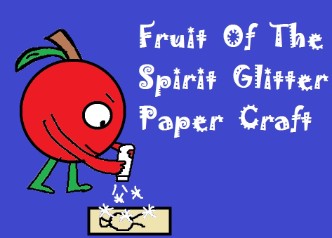 Fruit of The Spirit Glitter Paper Craft

Galatians 5:22-23- But the Fruit of the Spirit is love,

joy, peace, long-suffering, gentleness, goodness, faith, meekness, temperance

Fruit of the Spirit Template (printable version)
Stick glue
Construction Paper
Red Glitter
Crayons

Print template out. Cut it out. Glue to construction paper.
Color picture. Put glue on apple, strawberry, and cherries.
Then sprinkle red glitter on it.