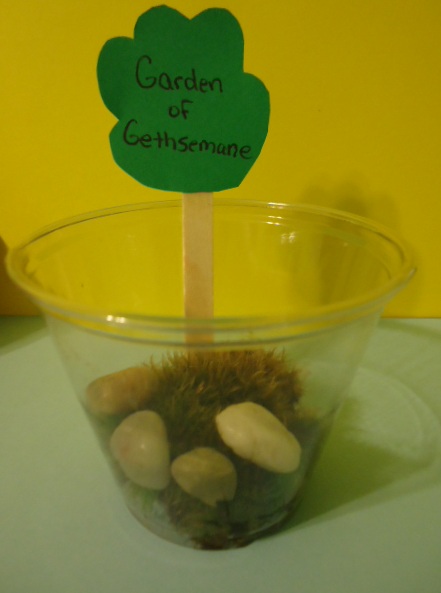 Garden of Gethsemane

Cup Craft
Popsicle Sick
Green Construction Paper
Scissors
Small Rocks
Moss- (or grass, sand, wood shavings, dirt, etc)
Tape
Black sharpie Marker or Black crayon
Clear Plastic Cup
Just fill your clear see through cup with some moss or you can use something else like sand, dirt, wood shavings, or something else. Add a few rocks or pebbles in the cup. Cut out a tree top from green construction paper and tape onto a popsicle stick. Stick down in the cup.

This is just a simple craft for kids to do during Sunday school or Children's church when teaching on the Garden of Gethsemane. If you want you could have the kids draw a Jesus and tape him to a popsicle stick and stick that down in the cup too.

You could also make cupcake toppers out of those green popsicle stick trees if you wanted. Use this craft to go along with the Garden Of Gethsemane Sunday School Lesson plan. Comes with a coloring page, maze, activity sheet and more.
Check Out These: