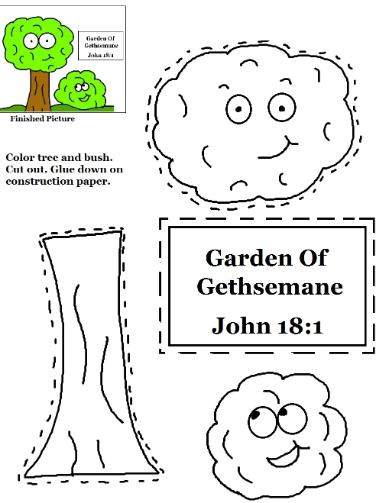 Garden of Gethsemane

Cutout Activity
John 18:1 When Jesus had spoken these words, he went forth with his disciples over the brook Cedron, where was a garden, into the which he entered, and his disciples.
Print the template out. Have the child color the picture first and then have them cut the tree, bush and square with words out. Have them assemble the picture together and glue down on construction paper.

If you want you could smear glue all over the top of the tree and the bush and add some glitter. You could punch a hole in the top of the construction paper and add some yarn through it and tie in a knot. Hang the child's picture up.
Use this craft to go along with our Garden of Gethsemane Sunday School Lesson Plan. Comes with a coloring page, maze, clipart and more.
Check Out These: