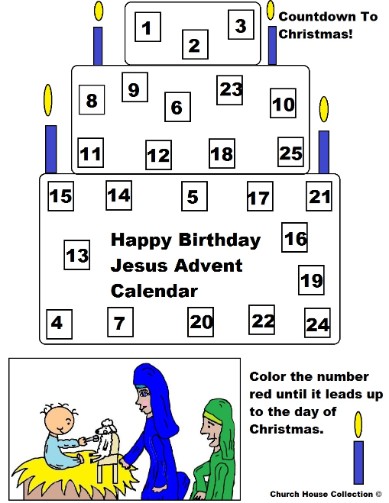 Happy Birthday Jesus Advent Calendar

Happy Birthday Jesus Advent Calendar Sheet- Color
Just print the Happy Birthday Jesus Advent Calendar out and let your child cut out small little squares of red construction paper. Place them in a ziplock bag, and when each days passes then have the child tape a red square over the number. When the whole cake is filled up, then it's Christmas Day.

Or you could let the child just color each number with a red crayon instead. You could let them cut the cake and picture of baby Jesus out and have them glue it down on a piece of colored construction paper.

Put this up on your refrigerator so you child can see this or you can put it on their bedroom door.

You could also laminate this so you can use it again for the next year. Small kids love counting down the days to Christmas.
You might also like: