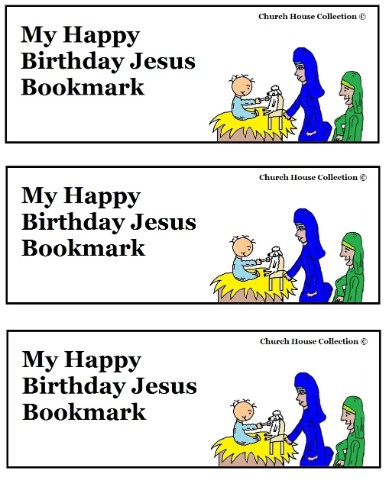 Happy Birthday Jesus Bookmarks
Happy Birthday Jesus Bookmarks 3 bookmarks
Happy Birthday Jesus Bookmarks 1 Bookmark
Just print this template out on cardstock and have the kids cut the bookmark out. If you have a laminator then take it to Church with your and laminate them during class. You could also print and laminate them yourself and give them out to kids in a gift bag for Christmas time or for a Happy Birthday Jesus Party.

Or you could stuff the bookmark in a ziplock bag and add some candy with a pencil and eraser. Use a hole punch and put a hole in the corner of the bag and string a balloon through hole and tie in knot. Give out to kids for prizes or gifts.

Let the kids use the cute little bookmark for their Bibles or favorite book at home.
You might also like:
Happy Birthday Jesus Toilet Paper Roll