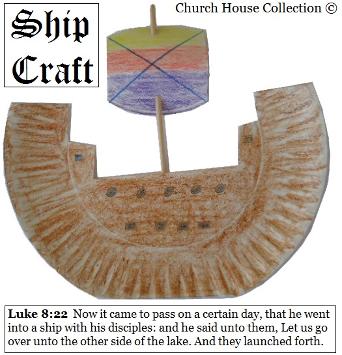 Jesus Calm

s

The St

orm Craft
"Ship Craft" For Sunday School
Luke 8:22 Now it came to pass on a certain day, that he went into a ship with his disciples: and he said unto them, Let us go over unto the other side of the lake. And they launched forth.
Plain paper plate

Crayons, markers or paint

Scissors

Bamboo skewers

Tape

Hole-punch
Cut off the top one third of the plate.

Trim about one half of an inch off of the bottom leaving the rounded sides.

Cut the top of the bottom two thirds to look something like a ship. (See picture.)

Have the students color or paint the ship.

Tell them to draw some port holes and windows.

Alternatively, you could have some circles and squares ready for them to glue in place.
Break the points off of a bamboo skewer for safety.

Cut out a sail from the remaining cut-off part of the paper plate.

Let the children design and color their own colorful sail.

Use a hole-punch to punch holes in the sail in the center top and bottom so it can slide onto the skewer.

Bend the sail slightly so it looks like it was blowing in the wind.

If time permits, the children can make a second sail.

This one could be a triangular shape. Tape the skewer firmly to the back of the boat.
Luke 8:22 Now it came to pass on a certain day, that he went into a ship with his disciples: and he said unto them, Let us go over unto the other side of the lake. And they launched forth.

Luke 8:23 But as they sailed he fell asleep: and there came down a storm of wind on the lake; and they were filled with water, and were in jeopardy.

Luke 8:24 And they came to him, and awoke him, saying, Master, master, we perish. Then he arose, and rebuked the wind and the raging of the water: and they ceased, and there was a calm.

Luke 8:25 And he said unto them, Where is your faith? And they being afraid wondered, saying one to another, What manner of man is this! for he commandeth even the winds and water, and they obey him.

Back to Jesus Crafts