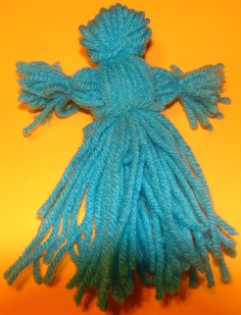 Jesus Loves The Little Children Yarn Doll
Mark 10:13 And they brought young children to him, that he should touch them: and his disciples rebuked those that brought them.

Mark 10:14 But when Jesus saw it, he was much displeased, and said unto them, Suffer the little children to come unto me, and forbid them not: for of such is the kingdom of God.

Mark 10:15 Verily I say unto you, Whosoever shall not receive the kingdom of God as a little child, he shall not enter therein.

Mark 10:16 And he took them up in his arms, put his hands upon them, and blessed them.
Yarn
6 inch square cardboard
4 inch square cardboard
Tape

Cut a 6 inch square cardboard piece and a 4 inch square cardboard piece. Cover any rough edges with tape.
For the body of the doll, wind yarn around the six inch cardboard thirty times. Slip a short piece of yarn between the layers of yarn and tie at the top to gather. Remove the cardboard and tie off the neck with another piece of yarn.
For the arms, wind the yarn 15 times around the four inch square piece of cardboard. Remove from the cardboard and use a short piece of yarn to tie off both ends for hands. Insert the arms between the layers of yarn just below the neck. Cut loops at the end of the arms for hands.
For a skirt. cut the loops at the bottom. For legs, separate the yarn and tie off ½ inch from the ends. Cut the loops at the ends of the legs. (See illustration.)

For an angel, make wings from a loop of wide lace. Make a halo from beads or a pipe cleaner.
Jesus Loves The Little Children Sunday School Lesson
Valentine's Day Sunday School Lessons