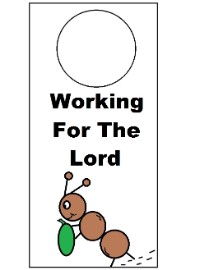 Labor Day Doorknob Hanger
"Ant- Working For The Lord"
Printable Ant Doorknob Hanger (Printable version)
Scissors
Cardstock or Printing Paper
Laminate (optional)
Print the Labor Day doorknob hanger out on cardstock or printing paper. Cut the hole out and laminate if you want. Use this fun doorknob hanger to go with our Labor Day Sunday School Lesson.

If you need a snack to feed the kids try making our easy Labor Day Ziplock Bag Snack for the kids. Or give them our Labor Day Coloring Page. I used an ant theme for the Labor day lesson. We have printable Labor Day activity sheets and a fun Labor day maze.

If you take prayer requests, then print out a Labor Day Prayer Request Sheet for the kids to write their prayer request down so you can pray with them. You can let them take them home or you can post their sheet to a prayer bulletin board to display their prayer needs. If the kids have something personal just have them write the word "Personal" down on the paper. Some kids may not feel comfortable writing some situations down and having it posted for everyone to see. God knows the heart and you can pray with them without every one knowing what is going on.
We have more Sunday School Lessons to choose from that comes complete with Bible Coloring Pages and really cool Bible Recipes for the kiddo's!