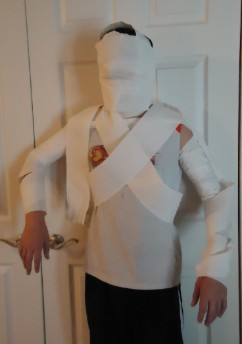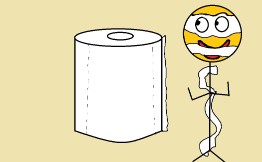 Lazarus Craft


Take a roll of toilet paper and have the kids wrap themselves from head to toe really good. It may take a few rolls depending on my kids you have in class. You can tear a small piece out for the eyes so they can see and a spot for their mouth if they want.
Now you have Lazarus raised from the dead. The kids had the most fun doing this craft. It was fast, simple and most of all FUN! The kids really got a kick out of this whole project. They really learned something about Lazarus from this little fun idea.

Use this fun idea to go along with our Lazarus Sunday school Lesson. It comes with a coloring page, activity sheet, recipe, maze and more. Try our Lazarus Dogs for a snack.

We have tons of Sunday school Lessons packed with fun stuff for the kids.
Bible Scripture:

John 11:38 Jesus therefore again groaning in himself cometh to the grave. It was a cave, and a stone lay upon it.
John 11:39 Jesus said, Take ye away the stone. Martha, the sister of him that was dead, saith unto him, Lord, by this time he stinketh: for he hath been dead four days.
John 11:40 Jesus saith unto her, Said I not unto thee, that, if thou wouldest believe, thou shouldest see the glory of God?
John 11:41 Then they took away the stone from the place where the dead was laid. And Jesus lifted up his eyes, and said, Father, I thank thee that thou hast heard me.
John 11:42 And I knew that thou hearest me always: but because of the people which stand by I said it, that they may believe that thou hast sent me.
John 11:43 And when he thus had spoken, he cried with a loud voice, Lazarus, come forth.
John 11:44 And he that was dead came forth, bound hand and foot with graveclothes: and his face was bound about with a napkin. Jesus saith unto them, Loose him, and let him go.
John 11:45 Then many of the Jews which came to Mary, and had seen the things which Jesus did, believed on him.