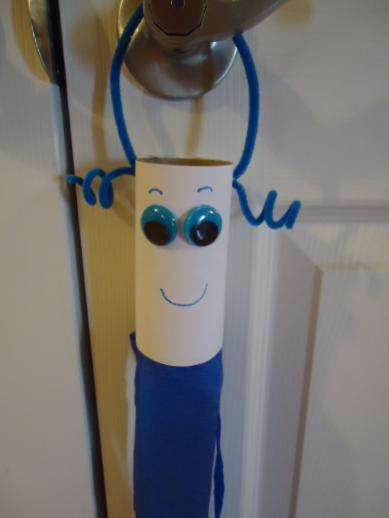 Wind Sock With Hair Twigs

Cardboard tube (Toilet paper roll tube)

Plain or colored paper
Markers or crayons
Glue
Crepe paper roll
2 Pipe Cleaners

Goggle Eyes

Hole Punch

Cut a piece of paper large enough to cover the cardboard tube. Decorate with markers or crayons. Or you could have them draw a face and add google eyes. Make sure you hot glue these down. You could use double sided tape or regular tape but I am not sure how long the eyeballs will stay attached when the wind starts blowing.

Write a Bible verse on the paper. Cut five or six streamers that are 24 inches (60 cm) long from the crepe paper. Glue these inside the toilet paper roll on one end so the streamers all hang out the bottom. They will overlap inside some.

Use a hole punch and add a hole on each side of the toilet paper roll tube. Add a pipe stem cleaner for a handle.Add another pipe cleaner through the same holes and twirl them around your finger to get a curly effect for the hair. Hang the wind sock where that you can watch the direction the wind blows. Bring it inside if there is strong wind or rain.
Back to Spring Crafts