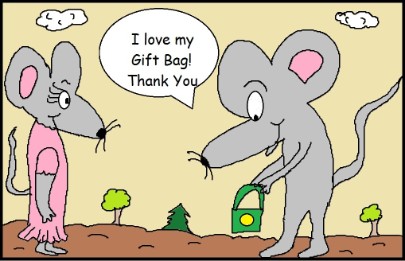 Mini Gift Bag

"Crafts and Pictures Submitted By A Viewer"
Thanks for the Craft!
Gift Bag Template (printable version)


Construction Paper

Hole Punch

Glue

Yarn or String

Stickers

Ribbon For Decorating

Print template and cut it out. You can also use the template as
a pattern and cut it out from printed paper.
Fold along dotted lines all toward the same side.

Holding a ruler along the dotted lines as you fold will give sharper creases.
Glue tab a to side b.Hole punch the narrow sides to insert a string or yarn for the handle.

Tie the string in a bow on each side.
Decorate with ribbon and stickers.

Christmas stickers are available at oriental Trading Company.

Peace on Earth stickers IN-4/4977

Happy Birthday Jesus stickers IN-4/1922
This is a good way to use up scraps of wrapping paper that are

too small to wrap a box, but too good to toss.