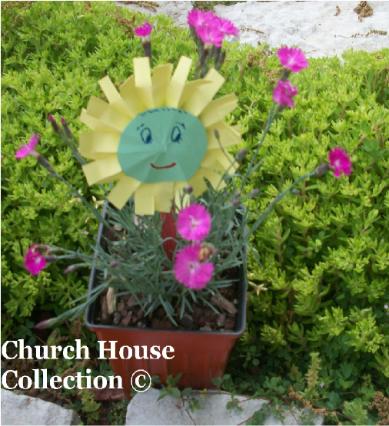 Mother's Day Medallion Flowers
Isa 66:13: "As a mother comforts her child, so will I comfort you; and you will be comforted over Jerusalem."
Paper

Glue

Scissors

Crayons or markers

Craft stick or bamboo skewers
You can use colored paper or if you have time use white paper and let the children color. From one sheet of paper, cut as many 2 inch circles as you need. It takes two circles for each medallion. Have the children draw a picture of the person that will receive the medallion on one circle. On the other circle write the words, 'Jesus and I love you.'
Take another sheet of paper and fold it in half the long way. Fold it in half the long way again so you have four long sections. Cut the paper apart along the folds. One sheet makes four medallions. For each medallion, make accordion folds in one strip. Cut half inch slits along the edge in the crease of each fold. Bring the short ends together and glue the edges. Gently flatten the medallion. This took some practice, but you will get it. Using plenty of glue, stick one circle in the center of the medallion on one side. Hold it down a few seconds to be sure it sticks well. Turn the medallion over. Depending on the age of the child, layer a craft stick or a bamboo skewer between the medallion and the other circle. Once again use plenty of glue.
Tell the children to give the medallion to their mother or a woman they love with a big hug.
Optional: Fold the fringed edge back and forth to make it more three dimensional. Use craft foam for the circles. Add a little glitter to make it sparkle. Add a two inch circle punch to your wish list.

Back to Mother's Day Crafts