Mr. Fly Lunch Bag Craft
(Exodus 8:21) Else, if thou wilt not let my people go, behold, I will send swarms of flies upon thee, and upon thy servants, and upon thy people, and into thy houses: and the houses of the Egyptians shall be full of swarms of flies, and also the ground whereon they are.

Fly Template (printable version)

Brown Lunch Bag
Tape

Stapler
Thread (we used tan)
Paper Stuffing (to stuff bag-we used sheets of paper)
2 Black Pipe Cleaners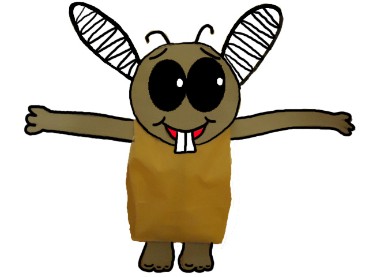 Print the fly template and cut it out. Take your brown lunch bag and stuff with paper. Fold the top down one time and fold side corners in. Staple. Tape your fly head arms and feet on. Take 1 pipe cleaner and make the two ends touch together and then twist. Do the other pipe cleaner the same way. Tape these wings on to the inside of the fold at top. Take some thread and wrap around both wings. Tie a knot in thread. I put a black thing behind the fly wings so you could see the thread. It didn't show up every good in the first picture.
Use this fly craft to go along with the The 10 Plagues of Egypt Fly Lesson we have.