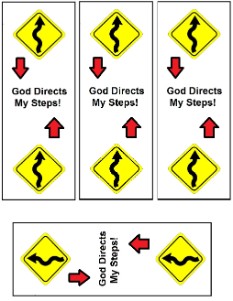 Road Sign Bookmarks
"God Directs My Steps"
Proverbs 16:9-A man's heart deviseth his ways:

but the Lord directeth his steps.

Just print the bookmarks out and cut them out. Run them through a laminator if you want.

Use this craft to go along with the Road Sign Sunday School Lesson. You could have them color the background on the bookmark and then you can run it through the laminator. Print this on card stock or regular printing paper. Both work great.