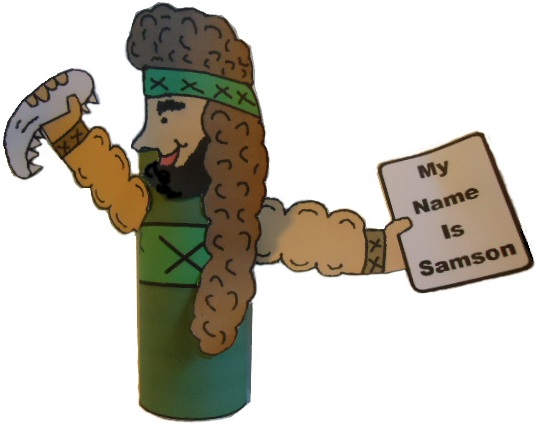 Samson Toilet Paper Roll Craft
Samson Template - Colored or Black and White

Scissors
Card-Stock or Regular Printing Paper
Crayons and Markers
Tape

Toilet Paper Roll Tube



Print the template out. If you print the black and white one then have the kids color Samson with crayons and makers. If you print the colored one out then you can start cutting him our right away. Tape the square part to the toilet paper roll tube for his body. Tape his head to the front and position his arms on the sides and tape them down. Samson is holding a donkey jaw bone and a paper that says, "My Name Is Samson.

I buy the toilet paper roll tubes from Oriental Trading and the templates will fall just a tad short for those toilet paper roll tubes. But it will still look fine. I made the templates to originally fit the Wal-mart toilet paper we buy. Toilet paper roll tubes comes in all different sizes depending on where you get them.
You might also like:
Samson Lesson- has tons of stuff

Still Looking For Something Else?