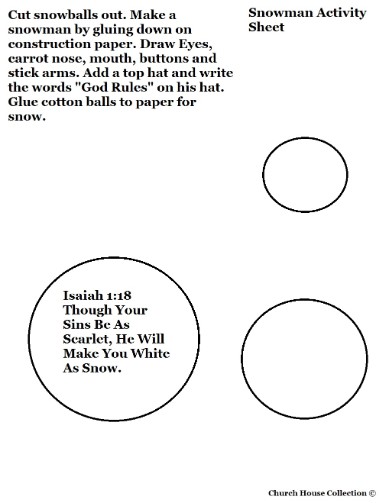 Snowman Cut Out Sheet For Sunday School
Snowman Template-Black and White
Just print this snowman sheet out and have the kids cut all three circles out. Grab some blue construction paper. Glue all three circles down on the construction paper to make a snowman. Take a black crayon and have the kids draw a large black hat on top of the snowman. Have them write the words, "God Rules" on his hat.
Now give him some eyes and a mouth. Draw a carrot nose on. Color him some buttons and draw his stick arms. You could even give him a scarf and mittens if you want.

Now glue some cotton balls all over the paper for snow. Or you could use a white crayon and draw snow on the ground and add some falling snowflakes all over the paper. You might even want to add some glitter paint all over your snow that you colored on with the white crayon.

Punch a hole in top of paper using a hole punch and run some yarn through and hang up somewhere.

You might also like:
Christmas Crafts for Sunday School