The 10 Plagues of Egypt
Darkness Crafts
Exodus 10:21- And the LORD said unto Moses, Stretch out thine hand toward heaven, that there may be darkness over the land of Egypt, even darkness which may be felt.
Pick one of the crafts out for the kids to do in Sunday school or children's church. This is the 9th plague of Egypt. Use this craft to go along with our Darkness lesson that is accompanied with lot's of stuff such as mazes, coloring pages, recipes, clipart, activities and more.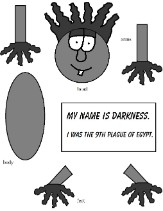 The 10 Plagues of Egypt Darkness

Cutout Activity
Just print this out and color it if you printed the black and white one. Cut the pieces out and glue down on construction paper to make this Darkness Plague Man.