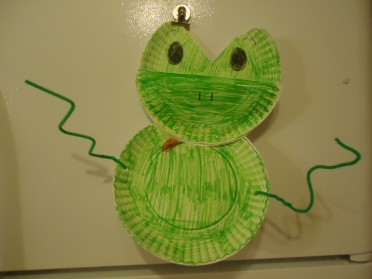 3 Paper Plates
2 Green Pipe Cleaners
Hole Punch

Scissors
Crayons- Black (eyes) Green (body) Red (tongue)
Take 1 paper plate and fold in half and staple. Color it green.
Take 2nd paper plate and cut a triangle out. Color green half way.
Take 3rd paper plate and color it all green. Add two holes in sides. Stick green pipe cleaners in for arms. Then staple folded half plate to the triangle cut plate. This makes his head. Then staple his head to his body. Add black eyes with black crayon and tongue with red crayon. Add two lines for nose.
The 10 Plagues of Egypt Frog Craft
Exo 8:5 And the LORD spake unto Moses, Say unto Aaron, Stretch forth thine hand with thy rod over the streams, over the rivers, and over the ponds, and cause frogs to come up upon the land of Egypt.