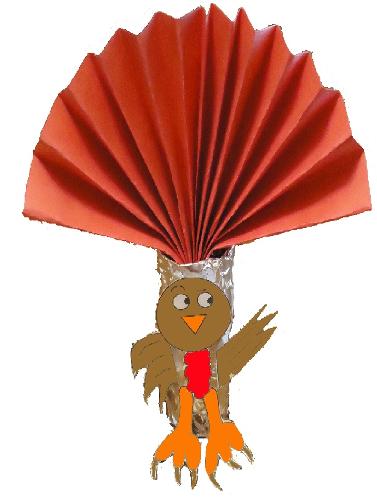 Turkey Toilet Paper Roll Craft
Turkey Template (printable version-1 turkey) (4- turkeys)

Tinfoil

Tape

Construction Paper-any color or (White paper and color with crayons)


Scissors
Print turkey template out. Cut it out.
Take toilet paper roll and wrap tinfoil around it and tape it down.
Stuff the left over ends into the tube, and press down.
Tape your turkey pieces on. Fold your construction paper accordion style for feathers.
Fold in half and put a little tape on the end. Stick it down in tube.
Our Take On It:
This is a fun craft to do with your kids at church or at home. I like using tinfoil to wrap the toilet paper roll in. It jazzes it up without having to paint it. Plus it gives it a nice shimmer effect. The template is pretty nice, however it may be a little difficult for small children to cut around the feet of the turkey. I made two different styles. One with plain red construction paper and the other with just plain white paper that was colored on with crayon.