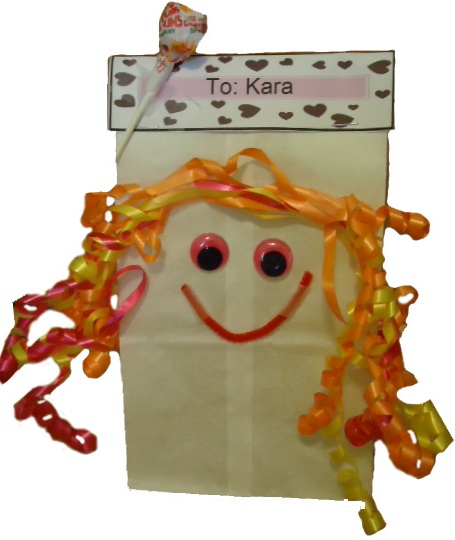 Valentine's Day Treat Bag Topper

Valentine's Day Lunch Bag For Kids
This is an easy Valentine's Day candy bag that you can make up for your child. Or better yet, let your child make one up and take to their teacher at school. Just fill the bag full of candy and treats. Let them write Happy Valentine's Day on the bottom of the bag if they want. You could leave all the hair, eyes and mouth off and it would still be a cute little Valentine's Day bag for the kids. If you are a teacher then make some up for all the kids in your class. (Just leave it plain and staple the template to the top, less work that way)



1 Sucker

2 Large Google Eyes (colored or black and white)

Ribbon or Yarn

Tape

Red Pipe Cleaner

Scissors

Valentine Template (4 templates to choose from)

White or Brown Lunch bag

Just print the Valentine Template out. Pick which one you need. There are two different templates. One has 1 template to make 1 bag. The other has 2 templates to make 2 bags.

If you know how to use the Paint program on your computer try uploading the Valentine Template into PAINT and then typing the child's name or teacher's name on the front. If you do not know how to do that then just write their name using a pen or sharpie maker.

Print the template out and cut it out. Fold the bag down and then fold the template over the folded over bag. Staple this on each side. Tape a sucker or another piece of candy to the side of the bag. Tape on some yarn or curly ribbon for hair. Tape on your eyes and then tape on a red pipe cleaner for the mouth. These make perfect little gift bags for kids.

What should you put in the bag:
Try filling a large ziplock bag with suckers, candy bars, smarties, or any other candy you can think of. Add small stickers, toys, pencils, erasers, little stamps, gum, or anything cheap you can find online or at walmart.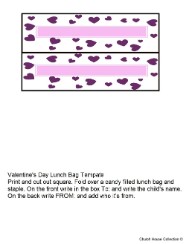 Template 2
Just write the child's name on the front of the treat bag topper template. This has only 1 bag topper.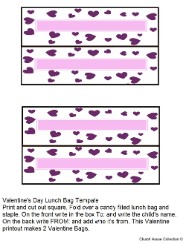 Template 4
Just write the child's name on the front of the bag topper. This makes 2 bag toppers.