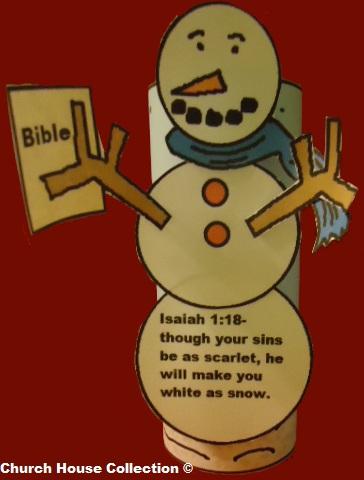 Snowman Toilet Paper Roll Craft

Print the template out. If you printed the black and white one out then color it with crayons and makers. Cut it out. Take the square body piece and wrap it around the toilet paper roll tube. Put a piece of a tape in the back. Tape all three of the snowballs on to the front of the toilet paper roll tube. Add his little stick arms to each side.
This snowman has a scripture written on the front of him that says, "Isaiah 1:18-..though your sins be as scarlet, he will wash you white as snow." Use this fun and easy craft with the kids for Christmas time. The snowman is holding up his Bible. Teach the kids the importance of reading their Bible everyday. If you wanted you could add a small amount of stick glue to the snowman's scarf and sprinkle glitter on it. Or turn him into a hanging ornament by using a hole punch and punching a hole in the back of the toilet paper roll tube and stringing some ribbon or a Christmas hook through the back. Hang on Christmas tree. Or stuff some candy pieces in the middle and stop up each end with some tinfoil that you crumpled up. (Make it thick so it won't fall out). Then give it to a person for sweet little gift.

We have a snowman lesson that you can use this with. It's has other fun stuff like coloring pages, snacks, activity sheets, templates and more. Try making our Snowman Cheeseball and take to children's Church for the kids to snack on. They will get a kick out this one and it's so easy to make. Try putting up a Snowman Bulletin Board "He will wash you white as snow". Buy one from the store or make your own. Just use some paper plates and staple them on and add their faces and some material for a scarf. Add cotton balls all over or paper snowflakes. Get creative with it!
Do you like socks and rice? lol Let the kids make the cutest little rice sock snowman ever. Just make sure you use thread and not rubberbands so you can throw it into the microwave to make a fun heating pad for cold or aching hands.
Use the scripture from Isaiah 1:18 to teach a lesson on. How Jesus came into the world to die on a cross just for our sins. He washed us clean just like the snow. Snow is pure and white. Explain to the children that this is how we become like snow when we ask for forgiveness of our sins.